Deodorant Stick - Rosey Glow
or 6 weekly interest-free payments of

$2.99
What's this?
A modern floral scent that smells like fresh-cut roses
This natural deodorant stick helps you stay fresh naturally all day. We use coconut oil as it's a powerful moisturiser with antifungal benefits. Tapioca starch absorbs moisture and baking soda neutralises odour, which is essential for keeping a healthy underarm environment.
This scent contains pure rose geranium essential oil for its antibacterial properties, ylang ylang essential oil has cleansing properties and pure manuka essential oil for its strong antibacterial properties.
NO aluminium, sulfates, parabens, phthalates, SLS or plastic packaging.
Directions: 
Gently push up from the bottom of the tube to expose about 1/4cm of product. Apply 1-2 swipes to a clean, odour-free underarm. Best applied in the morning after a shower. Works really well if applied every day. Lasts up to 12 hours but if you are working out or going through the transition phase you may need to use more often.
Ingredients: 
NZ Beeswax, organic coconut oil, baking soda, organic tapioca starch, rose geranium, ylang ylang and manuka essential oils. That's it - 0% nasties!
50g - lasts between 2-3 months
If irritation occurs, please discontinue use and contact us.
Made in New Zealand from local and imported ingredients.
Customer Reviews
03/14/2020
B
New Zealand
Rose scent too strong
Love the idea behind this product, unfortunately I couldn't get past the smell. Way too intense for me. I have no doubts it would work great as a deodorant. I adore the plastic free packaging and natural ingredients, I just wouldn't recommend if you're sensitive to fragrance.
02/17/2020
Leonie H.
New Zealand
Deodorant Stick - Rosey GLow
Very pleased with this deodorant. Lasts all day. Nice fragrance. Love that it is natural.
01/19/2020
Vicky L.
New Zealand
Great stuff
I'm using the Rosey glow deodorant. Great products that work well and good for me and the environment.
10/26/2019
Lily P.
New Zealand
Thrilled
I have been searching for the perfect natural deodorant for a while. I have found the one! I have used brands that have irritated my underarms or just not have the protection for full day coverage without reapplication throughout the day. This deodorant goes on like a classic stick deodorant, feels and smells amazing! I will definitely be peering this again and again!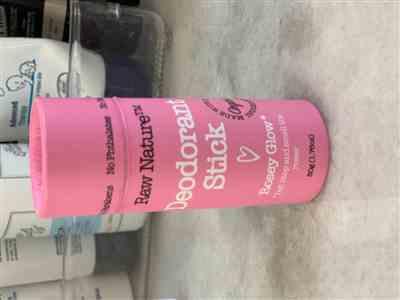 08/28/2019
Jenna R.
New Zealand